When you log into the Dashboard of your WordPress site, you may notice an icon with two curved arrows next to a number.
This is your website's way of saying it has some updates.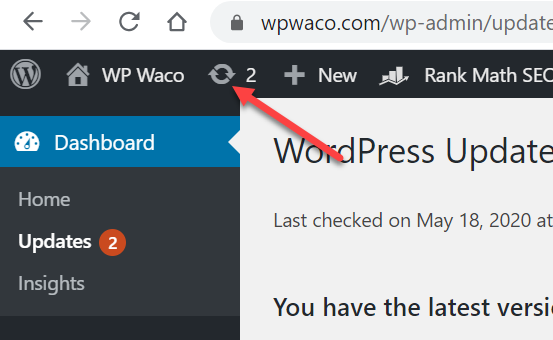 There are 3 types of files that need to be updated in your WordPress site on a regular basis.
WordPress core files
Theme files
Plugin files
Why does this happen?
Your website is made with code.
And that code lives on a server that is running on more code.
All of this code has to be able to work well together and at the same time keep out any bad code that might get in and mess things up.
The WordPress core, theme and plugin files are all created and maintained by coders who are listening to their users and changing the code to fulfill their needs.
If you bring these code changes into your site then you can use the new updates to help improve how effective your website is.
Can I just leave them alone?
You can, but I wouldn't recommend it.
The longer you let these updates sit without running them the higher your chances of getting hacked.
There are hackers looking for ways to get into old website code so they can add links to back to their site.
Once your traffic starts going to the hacker's site they can get paid for ads they show your visitors or they can trick Google into thinking their site is popular and should be higher in the search results.
And once the hacker's code gets into your site it gets really hard to find where it is and get rid of it.
Don't let this happen to your site.
It's too easy to just run the updates.
How do I run the updates?
The process to update your files is simple, but before you run those updates it's a good idea to have a backup of your site just in case something goes wrong.
I like using UpdraftPlus and All-in-One WP Migration for making a quick backup.
Once that is done I usually just start at the top and work my way down.
1. Update the WordPress core files to the latest version.

2. Update your plugins to the latest version

3. Update your themes to the latest version

Other Tips
You can run updates automatically
There are plugins that will run all of these updates for you automatically.
I've used Webcraftic Updates Manager and Easy Updates Manager.
The WordPress Team is planning to add the auto-updates feature to WordPress core so you won't need a separate plugin.
Delete plugins and themes you're not using
If you have any plugins or themes that you're not using, it's a good idea to go ahead and delete those.
There's no need to have code on the server that you're not using.
It's less maintenance and more secure.